Someone in the NHGOP said,
"Our building was clearly vandalized by liberal political activists who disagree with our fiscally responsible values. Instead of trying to engage in a serious debate about the issues facing our country, these cowardly extremists decided to spread their liberal agenda by damaging our property," said NHGOP Executive Director Matt Slater. "This type of outrageous and illegal political activism should be condemned by the New Hampshire Democrat Party. They need to send a clear message to liberal activists that their shameful tactics have no place in politics."
Read more: http://www.wmur.com/political-scoop/nhgop-hq-vandalized/-/16254890/22428558/-/hh0560/-/index.html#ixzz2hjEaDI97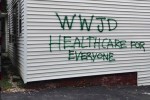 Nothing like jumping to conclusions guys. Maybe the vandalism was done my some other member of the 47% that will never vote for Governor Romney but would like to have health insurance?
I tell you this, you stop your shameful tactics in Washington D.C. and maybe the vandal in Manchester, NH will stop his.